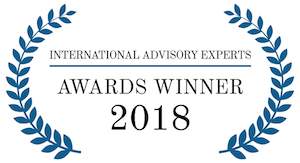 International Advisory Experts Annual Awards pay tribute to firms who have been successful over the past 12 months and have received exceptional praise from their peers. All nominees are researched by their research team and group members. Potential winner shortlists are created for each jurisdiction and International Advisory Experts publications.  (Reference http://international-advisory-experts.com/awards/)
All nominees are then assessed by an independent panel.
Robert Taylor, CEO of 360 Law Group comments:
'This really highlights our success over the last year and into the future and we are very pleased to be able to accept this Award, on behalf of our subsidiary 360 Business Law. The Law Sector is changing and we are offering an innovative, technology based business model that supports greater flexibility and provides cost savings to all our clients. This Award proves we are really making a difference.'
For more details please contact us.