Trade
The UK has always been an important trade partner for the US. With low barriers to entry, a world-renowned legal system and a favourable tax and regulatory framework, the UK certainly boasts a welcoming business environment for US companies. With a highly educated talent pool, the UK allows businesses to grow their presence and achieve their goals.
The creation of an establishment in the UK by a US company opens up new trade opportunities and acts as an economic springboard for businesses seeking to expand into European and International markets.
As a trading partner, the UK comes just behind the US's immediate neighbours, Canada and Mexico, with which the US has the North American Free Trade Agreement.
As a supplier of goods and services to the UK, the US comes in second, behind Germany.
Foreign Direct Investments (FDI)
From a US company perspective, the UK is an important investment partner.
The UK comes second, behind the Netherlands with its beneficial tax regime, as a place that American companies invest, accounting for 13% of total FDI.
360 Law Group's unregulated legal services company 360 Business & Private Client Law provides UK and US companies with legal services on a global basis, and has earned a reputation as a provider of high-quality legal services, only using five (5) years' plus qualified lawyers who are specialist in their area of expertise.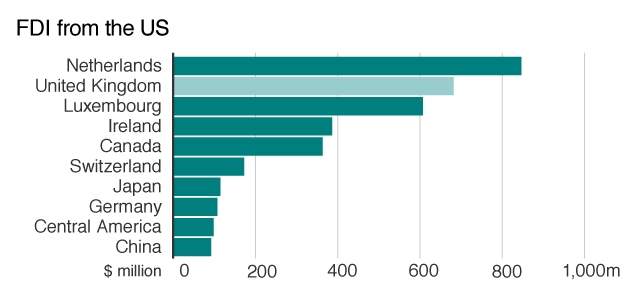 Why Choose 360 Law Group?
360 Business & Private Client Law can help you establish trade in the UK and Europe in a cost-effective manner.
Our experienced lawyers are resident in all jurisdictions in which UK and US companies trade including: UK; all countries in Europe; Australia; India; Middle East; South Africa; USA; Russia and China. And we are the only legal services provider in the UK that provides our market leading "Subscription Legal Services" where companies can obtain commercial contracts and/or employment law advice and services for a single monthly fee, that is usually less than they can employ a single lawyer at in the UK, and where fees do not increase for 12 months irrespective of increases in workload.
Our sophisticated, secure cloud-based infrastructure allows our lawyers to deliver legal services to anyone, anywhere on earth, in an extremely cost-effective manner, allowing us to provide you, our valued clients, with high quality legal services, provided by experienced lawyers, at a very realistic price.
Download 360 Business Law – Subscription Legal Services Brochure