360 Law Group is proud to have been named in the 'The Times Best Law Firms 2020' top 200 legal firms for commercial, public and private client law in England and Wales. The report was produced by means of peer review, compiled from research and recommendations collected from over 20,000 solicitors and hundreds of clients throughout 2019.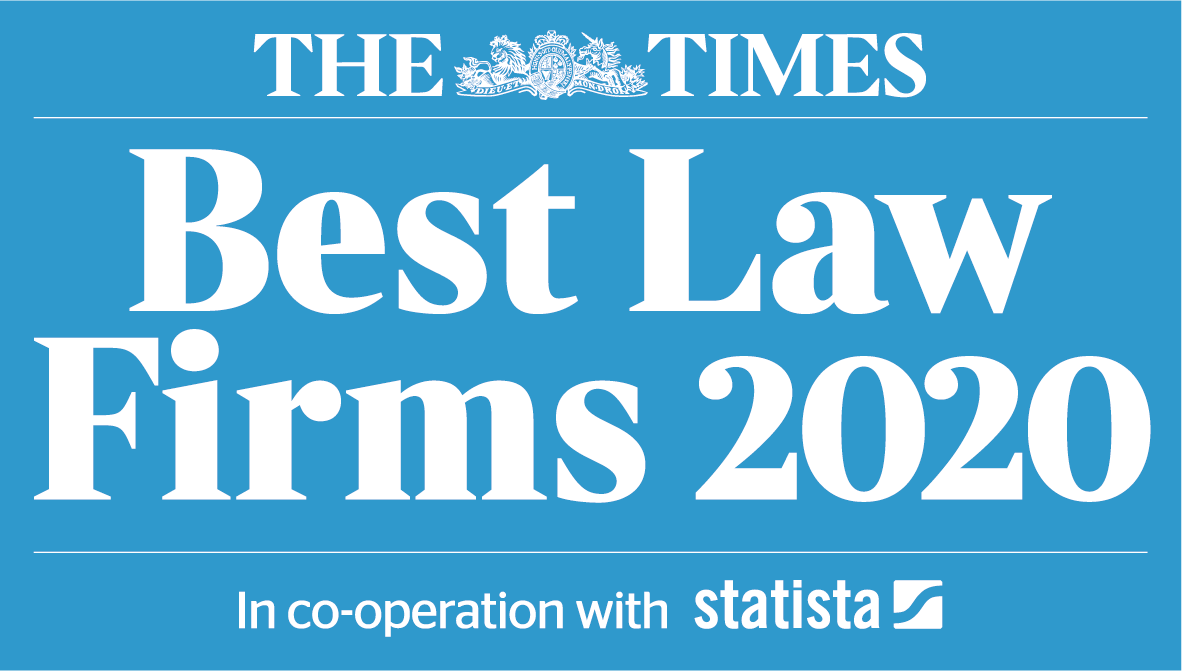 At 360 Law Group, we have always made our mission clear: to provide cost-effective legal services with the same exceptional standard offered by top City firms, but without the price tag that we believe to be unnecessary.
This award is a good indicator of how successful we have been in achieving our goal, and to be named in such a prestigious list is not only an honour and a privilege, but a recognition of the strides we have made as a team to change the way legal services are delivered on a global scale.
Disruptors in a sector famed for its traditional approach, we started our business with the aim of providing high quality services, demystifying legal fees and giving consumers complete control over their costs. Seizing the opportunity presented by the Legal Services Act 2007, we took full advantage to deliver our services on both a regulated and unregulated basis.
Our unregulated practice, 360 Business Law, was one of the first firms in the UK to provide business clients with commercial, contracts and employment law services on a 12-month subscription basis that would keep their costs fixed irrespective of growth in volume.
Now, we are the only law firm in the UK that provides subscription legal services on a global basis – and we've always kept our standards high, enlisting only specialist consultant lawyers with impressive portfolios and a minimum of 5+ years PQE, although the average is closer to 15 years' experience.
Take a look at the graph below that compares our fixed UK hourly rate (savings may be considerably higher in overseas jurisdictions) against the average City firm, where rates increase with experience. The fact is, we provide our clients with access to the same lawyers (many have held partnerships at these same firms), for a fixed fee regardless of experience, and we never use trainees, paralegals or junior associates.
In 2017, 360 Law Services was licensed by the SRA to provide regulated legal services, meaning that we could now practice in all areas of law, including "reserved matters" such as litigation and commercial property. In turn, our parent company '360 Law Group' became the first and only group to offer "Regulated" and "Unregulated" legal services in the United Kingdom. It's a milestone that we are proud to have made; one that we believe the legal services industry had needed for far too long.
As honoured as we are to be named in The Times' Best Law Firms 2020, we are prouder of the fact that we have been able to pass on seismic cost-savings to our clients through our low-overhead business model. Operating as a virtual firm with an international network of consultant lawyers hailing from respected firms such as DLA Piper; Allen & Overy; Eversheds; Bird & Bird, Mayer Brown and Baker McKenzie, we guarantee our clients the high-quality service they deserve.
Our digital infrastructure has not only enabled us to handle the administrative aspects of our business without the need for support staff, it has also encouraged us to continually innovate technologically to ensure an excellent client experience every time. In 2018, with support from our partners CSharpTek, we developed our case management system, CITRAS, allowing lawyers to work in real-time on cases, upload strategic documents and liaise with clients directly. Now, clients can simply log in to their account to receive key updates on their case, via their desktop web browser or their mobile device, through Android or iOS applications.
More than just cutting-edge technology, it is transparency that we have built our business around; it is the trust we have built and the commitment we have upheld to delivering high quality legal services that we think has earned us a place on this esteemed list. The Times award recognises the strength of our brand in the global legal sector, and we thank our clients and consultants for the belief they have had in our business from the beginning.